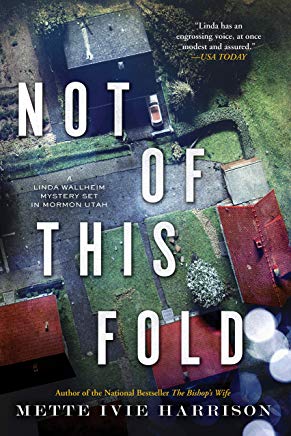 Not of This Fold immediately draws the reader in through the engaging personality of Linda Wallheim, a Mormon bishop's wife and an amateur sleuth. Since this is the fourth installment of Linda Wallheim mysteries, readers know that she figures out who the murderer is at about the same time as the police. In this book, she has a sleuthing partner, Gwen Ferris. Gwen is also married to a Mormon bishop but is having a spiritual crisis due to the Mormon stance on a variety of issues.
Gwen and her husband are unable to have children, which is a heartbreaking situation for any couple. But it is compounded because, as Linda describes it, the church tells women "We were told so often that raising children was the most important thing we can do with our lives, that mothering was an eternal role, and even when we were resurrected and living in the celestial kingdom, we'd be silently serving our spirit children, . . . " (p. 18). Gwen has other issues with Mormonism: the church's attitude toward immigrants from Hispanic countries, the prohibition of same-sex marriages, and the male domination of church leadership. Gwen has quit her high-paying job and plans to enter the police academy to make a difference, but her complaints are leading to marital strife as she contemplates leaving the church.
Since Linda is a grandmother and Gwen is in her twenties, Linda looks at her as the daughter she never had and guides her while they investigate who killed Gabriela Gonzalez, a Mexican immigrant with three young children. Gwen works in the Spanish ward and had befriended Gabriela, so she wants to see justice done. She and Linda do a lot of traveling and interviewing of potential suspects, which draws the ire of the police, who insist they are interfering with the investigation.
I could relate to Linda because she is a real person and not a stereotypical Mormon bishop's wife with a perfect life. This is her second marriage, one of her five sons left the church and another is gay, and she is also questioning the church's rulings and practices. The story leads me to believe that Mormon author Mette Ivie Harrison is voicing her own inner conflicts with the church.
I felt the character Gwen Ferris was too one-dimensional. She kept repeating the same slogans throughout the story: Mormons look down on brown-skinned people, Mormons refuse to give women leadership positions, and the church must change with the times. It becomes obvious she is taking out her own unhappiness and unfulfillment on religion.
Overall, Not of This Fold is a fast, enjoyable read. It certainly makes the reader think about the Mormon's traditional positions when society is challenging traditional beliefs. In fact, I think the social issues often put the mystery story itself in the background. I also noted missing words in the text. This I do not blame on the author, but rather it is the proofreader's responsibility. Other than that, I find this story riveting because it has such a unique twist. But those looking for a mystery that solely concentrates on the whodunnit may not appreciate Harrison's work.