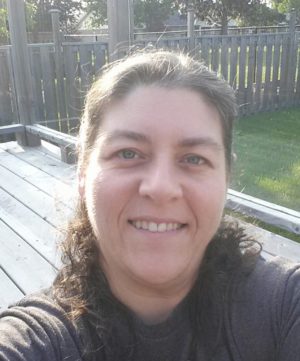 Up-and-Coming Horror Author Jennifer Sullivan
In 2017, I attended the first annual BookBaby Independent Authors Conference in Philadelphia. I met Jennifer Sullivan during the orientation and we connected instantly. I wish she lived in my town so we could regularly meet and chat about writing! But alas, she lives in Canada and I live in the U.S., so we stay in touch through social media. Jennifer is a horror writer and is preparing her first novel for publication. It has been well-received by her beta readers and I wanted to interview her for this week's blog as she gets it ready.
 1. IK: Tell me about your background and what led you to become a full-time writer.
JS: I've always dreamed of being an author, but, as so often happens, life got in the way. I started a career as an independent contractor for major retail chains working with Lease Administration departments, reviewing legal documents and writing summaries of them in plain English. My aim had been to earn enough income through my work so that I could support myself as I waited for my writing career to take off. Then both of my parents became ill, my mom with Multiple Sclerosis and my dad with cancer. It was the most difficult time of my life – trying to juggle a career, being a primary caregiver, running my parents' household and my own, plus all the other things we all deal with. Writing kept me sane through it all. It was my escape from real-world responsibilities and created a bit of time during the day that I could call my own. My mom had been blinded by her disease but wanted to know what I was writing, so I would take my stories to her and read them out loud. She loved being lost in the worlds I created (even if she wasn't a big fan of the gory parts) and reading aloud really helped me clean up my writing.
Unfortunately, my parents both passed away within ten months of each other. She was only 59 and he was 64. My whole world seemed to unravel then – I was no longer needed to run errands, book doctor appointments, travel with them out of town, or all the other tasks that usually took up several hours every day. But writing was still there, and I needed it then more than ever. I took on more work and began writing consistently for a couple hours every day. The more I wrote, the stronger my skills became, and I started gaining confidence in my abilities. I started sharing more of my work with other writers and started to think that maybe I could make something out of that long-ago dream.
In 2017 my husband and I began having conversations on how I could take the leap into writing full-time. He gave me the nudge I needed to start thinking about changing careers, and by the beginning of 2018, we had our finances in order so that I could take my first big step, ending my 15-year career as an independent contractor. It's been a rollercoaster of a year, working on my novel, writing short stories, setting up a business plan, and collecting mostly rejection letters, but I wouldn't trade it for anything.
 2. IK: I understand you are getting a book ready for publication. What would you like to tell me about it?
JS: Back in 2016 I wrote the first draft of a horror novel titled Thirteen Doorways for National Novel Writing Month (NaNoWriMo). It was the first full novel I'd written, which was a huge accomplishment. Since then I've been refining and editing the story, and plan to start submitting the final manuscript for publication in the next few months.
The story centers on Rhonda and Jordan Butler, a married couple in their thirties, who have just bought the house of their dreams. Before they even move, Rhonda receives devastating medical news that destroys the picture-perfect image of her future. As she tries to cope with her loss, strange things begin happening in their new home. Nightmares and disturbing visions plague her daily. Jordan deals with his loss by throwing himself at work and befriending the town's elite businessmen with powerful connections to ancient supernatural beings.  Rhonda and Jordan soon find out demons aren't the darkest entities in our world as something more sinister lurks in the shadows. But the paranormal may be the least of their worries as the businessmen, lusting for power at any cost, attempt to collect the entity that dwells within the Butler's home, by any means necessary.
 3. IK: What steps have you taken to prepare your book for publication so far?
JS: The biggest step I've taken was this summer when I sent out my manuscript to beta readers. I reached out to the writers I knew and was ecstatic when several of them jumped at the chance. I was a nervous wreck waiting for feedback, but it was a fantastic experience and a step I think all writers should take. Receiving detailed critiques has helped me identify which areas of my novel needed more attention, and which sections were working well. Before my work is published, I want to take it to the highest quality I possibly can, and the feedback I received gave me the direction I needed to make that happen.
I had originally planned to self-publish my book (and I may still go that route), but a couple of my beta readers have convinced me that I should try submitting it to publishers first. What a boost in confidence that was! So, for the past few months I've been researching different publishers, talking to writers about their experiences with those companies, and reading works within the publishers' catalogues. When I am ready to query, I don't want to waste time submitting to publishing houses that don't purchase the type of story I'm trying to sell, so I'm spending a lot of time doing the ground work first.
Besides that, I've been establishing a social media presence, interacting with other writers, book reviewers and potential readers, so that once my novel is available, I already have a pool of people that will be interested in supporting my work.
 4. IK: Some of the gentlest, most refined writers I have met write horror and I always have to ask what attracts them to this genre.
JS: Yes, it does seem to be a contradiction to those who have no interest in horror! I too have found that most writers in the genre are extremely caring individuals who wouldn't hurt a fly in real life. The common thread with both writers and fans of horror is a sense of being an outsider. When I was growing up, I always had an interest in strange and unusual things (like the paranormal) and was often bullied for being weird and different. That feeling of not belonging never really goes away, but through horror I found a group of people who had similar experiences.
If you look at works in the genre, the main character was never the most popular person at school. Many horror characters are people who live on the fringes of society, either because of their interests, economic backgrounds, sexual orientation, or religious beliefs. A lot of horror fans can easily see themselves in the shoes of those outcasted characters, and it creates a sense of being less ostracized. Also, in many dark fiction stories, it is these outsiders who save the day, and I think most people are attracted to the heroes that most mirror themselves.
 5. IK: How do you get ideas for your writing?
JS: That's a tough question. A lot of my ideas are a result of innocuous events or items clashing with my overactive imagination. For example, last summer I was out at the mall with my friend's kids and we stopped at the Build-A-Bear kiosk. The sales clerk was so bubbly and friendly and genuinely seemed to love her job. When I got home, I wondered what would happen if this lady also had a fondness for taxidermy and hated her boss. The result was a story titled Build-A-Friend, which appeared in the Issue #3 of The Serial Killers Newsletter magazine.
To paraphrase advice from some horror legends, if you take a scary trope (like zombies or monsters) the reader already has an expectation of how the story will take place. But, if you take something innocent, like a child's toy, and twist it into something frightening, then your audience is taken off guard and it can really get under their skin. That's exactly what I enjoy as a reader and what I hope to accomplish within my own work.
 6. IK: What information is contained on your website?
JS: Right now, my blog, Writing Scared (https://writingscaredblog.wordpress.com), is operating as my website. It has links to all my social media accounts, some posts about what I've learned on my writing journey, a few short stories, and book reviews with interviews of the authors. I haven't had as much time (or brain power) as I would like to post much in the last few months as I've been concentrating on editing my novel, but in the new year I will be posting on a more regular basis.
 7. IK: I know you have written short stories. Do you send them out? Do you publish them on your website? How else do you share them?
JS: For a long time, I just wrote short stories and then put them in a drawer. But I've gradually mustered up the courage to start sending them out to magazines and anthologies. This year I managed to have 3 stories published: "The Forest" appeared in Indie Writers Review, Issue 4 (March 2018); "Build-A-Friend" made a splash in Issue #3 of The Serial Killer Newsletter; "Eddie's Evil Elf" can be found in an anthology called Midnight Gore: Bloody Christmas. Of course, there were many more sent and rejected, but you can't hope to be published if you don't try.
And, yes, I do have a few short stories on my blog. Many publications won't accept stories that have been published on websites or blogs, so I've been limiting the number I post. However, I do plan to continue releasing a few on my site in the coming year to give readers an idea of my writing style.
Another way I share my stories is through online competitions. Again, I don't enter many as those stories would then be ineligible for paid publications, but they are fun! In the fall, I sent a story to The Bold Mom's October Terrors Readers' Choice Contest and finished in 22nd place out of over 70 entries. It was great reading all the other submissions and from that I met new authors, expanding my writing network.
If you're looking for ideas on where to send your work, I highly recommend subscribing to Authors Publish (https://www.authorspublish.com/). Every week they send out an email with links to a variety of open calls for submission in several different genres. For any other horror writers reading this, make sure you also check out Dark Markets (https://www.darkmarkets.com/) which is a fantastic resource.
 8. IK: Which writers are your role models and why?
JS: Like most writers in horror, Stephen King has been my role model for a long time. His volume of work is astounding, and he's managed to break into mainstream culture. Even people that are not fans of the genre know who he is, and that's not something many horror writers can say. As I talked about earlier, a lot of characters in King's stories are outsiders, which I find relatable.
Another role model of mine is Clive Barker. Besides being an incredible horror writer, he's also a screenwriter, director, illustrator and visual artist. I admire his range of talents, and while some of his work can be quite grotesque, there's something almost beautiful in his creations. The worlds and characters Barker creates are so vivid, part of my mind forgets they are works of fiction.
 9. IK: Do you attend a writers group on a regular basis? Do you have writer friends you meet up with?
JS: Yes, I do, and I would be lost without my group. In 2011 I attended my first short story workshop and immediately clicked with one of the other students, Barb. We started meeting monthly after the class was over, and gradually expanded into a group of four writers. Every month we send each other what we've been working on, and the following week we get together to provide critique notes. We all write in different genres which I think helps strengthen our own work since each of us notices distinct aspects of writing. For example, horror relies heavily on sensory descriptions, so I often find areas where my group mates could improve their visuals. One of the other writers concentrates on contemporary literature and is very adept at spotting dialogue that doesn't sound true to life.
Back in October, I met another local writer at a horror convention, and in the new year we're planning to start a new writers' group with a few others in the genre. As much as I love my original group, it's important to work with writers in your own style of writing as well to master the craft within a specific genre.
 10. IK: What are your writing goals for this new year?
JS: My top priority is to finish editing my novel, Thirteen Doorways, so I can start sending it out to publishers, but that's just the beginning. I have a filing cabinet full of other novels I've started, and I'd like to take at least one of them to a point where I can send it to beta readers. On top of that, I plan to write six or seven new short stories, plus edit a few others which are nearly finished and send them out to open calls for submission. Another project I might tackle is finishing the first few drafts of a screenplay I've been toying with for a few years. To some writers, my goals may seem painfully small, and to others it may seem overly ambitious, but it feels like the right pace for me and that's all I try to worry about.
  11. IK: Is there anything I haven't covered that you would like to add?                                                                   
JS: I'd just like to say to other writers out there, no matter what genre you write in or where you are in this journey, don't give up. Someone needs to hear the story that's trapped inside of you, so keep chipping away. It doesn't matter if five or five thousand people read the result, your soul will be better for having created something out of nothing.
About the author: J.A. Sullivan is a horror writer and paranormal enthusiast, based in Brantford, Ontario (Canada). She likes discussing books, movies, and everything to do with writing. If you're interested, she'd love to connect with you on the following social media sites:
WordPress: https://writingscaredblog.wordpress.com
GoodReads: https://www.goodreads.com/user/show/20319805-j-a-sullivan
Twitter: www.twitter.com/ScaryJASullivan
Instagram: www.instagram.com/j.a_sullivan
Facebook: https://www.facebook.com/ScaryJASullivan/
Be sure to check out Jennifer's website to find out when this rising horror author star will publish her book!