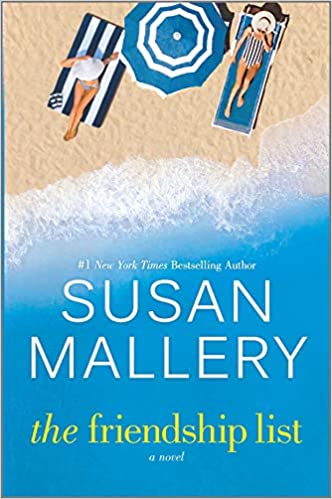 During this highly unusual time of COVID-19, I believe it is beneficial to read books with a happy ending because all of us need to feel hopeful when we are under stress. The news is filled with people catching the virus, losing their jobs, and feeling depressed because they cannot socialize. We are all hoping for an end of this novel virus, but in the meantime, why not read an engaging novel with a happy ending?
Therefore, I wrote my book review about such a book. The Friendship List by Susan Mallery takes us back into the world before COVID-19. People can get together, go to other people's houses without fear, eat in restaurants, etc. Two lifelong friends find they are in a rut and need to try new things and actually live. One of the women is 34-year-old Ellen Fox, who accidentally became pregnant at 17 and was abandoned by her boyfriend before the baby's birth. She has been raising her son and supporting him while never venturing into the dating world. Her friend, Unity Leandre, also 34, married her husband at 18 and became a widow at 31. She keeps her late husband in her heart and has never dated since. These ladies make a pact: Each writes a list of things she wants to do and whoever actually accomplishes the most on her list will pay for the two of them to go to a luxury spa for a weekend. A few of their goals include having a serious relationship with a man, getting a tattoo, and skydiving.
Both women have issues that are holding them back, but I am not going to give the whole plot away. Although I winced when people hugged and kissed because I am now conditioned to not do those things during COVID-19, I eventually got into the rhythm of the story and forgot about our bizarre times. By the time I finished The Friendship List, I found the ending so heartening that I had to write a book review. We cannot hug and kiss our friends or have get-togethers now but it is still a joy to have them in our lives.
As for Ellen and Unity's boyfriends, there was hugging and kissing in greater detail than I am normally comfortable with reading. Personally, when I write, I think these things are better kept to the reader's imagination. Of course, for those who do not share my opinion, I shall say there is no lack of bed scenes in this story.
The Friendship List is about overcoming challenges and the highs and lows of taking chances in the quest to live a full, satisfying life. It is also about the power of a great friendship that gives us not only love and support but also many happy times. Susan Mallery is an extremely gifted writer, and reading her book was such a delight that I had to write a book review on my blog to recommend it to others battling the COVID-19 blues.
Idelle Kursman is the author of two novels, True Mercy and The Book of Revelations. Both can be found on Amazon.