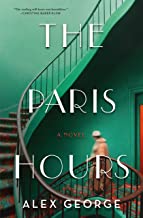 I found Alex George's The Paris Hours a beautifully-written story. Here is just a sample: "Every morning the piano rescues Souren Balakian from his dreams. The same low notes gently tug him away from everything that he has left behind. The ghosts that haunt his sleep are chased away by the music floating up through the floor from the studio below. He opens his eyes" (p.13).
The Paris Hours was published this year and is the first book of this author that I have read. Two of George's earlier books have received widespread attention: A Good American was the #1 Indie Next Pick, an Amazon Best Book of the Month, and a Library Journal Best Book of the Year. Setting Free The Kites was also an Indie Next Pick, A Library Reads Choice, and a Midwest Connection Pick. In addition, it won the Missouri Prize for Fiction in 2018. Wow!
While reading The Paris Hours, I appreciated the diligence and care George took in creating each of the four central characters, ordinary people who have suffered greatly during the First World War in France. He elicits readers' empathy as he draws them into their lives: a refugee from the Armenian genocide who made his way into the country after losing his entire family, a French journalist who also lost his family during the war, a struggling painter desperately needing love and luck, and a former housekeeper of Marcel Proust desperately searching for a notebook belonging to the late artist because it could ruin her life. The author weaves in other famous artists besides Proust, the rest being American expatriates living in France: Ernest Hemingway, Josephine Baker, and Gertrude Stein, among others. But the story concentrates mainly on the four central characters and their quest for redemption.
However, as much as I enjoyed reading The Paris Hours, I was disappointed by the ending, which critics promised would be spellbinding. The lives of these characters are individualized and intricate, but for the conclusion they all come together in one setting. I do not want to give too much away other than stating I found it unsatisfying. Nevertheless, for readers who enjoy an author who produces beautifully crafted writing and unforgettable characters, The Paris Hours delivers.
Idelle Kursman is the author of the novels True Mercy and The Book of Revelations