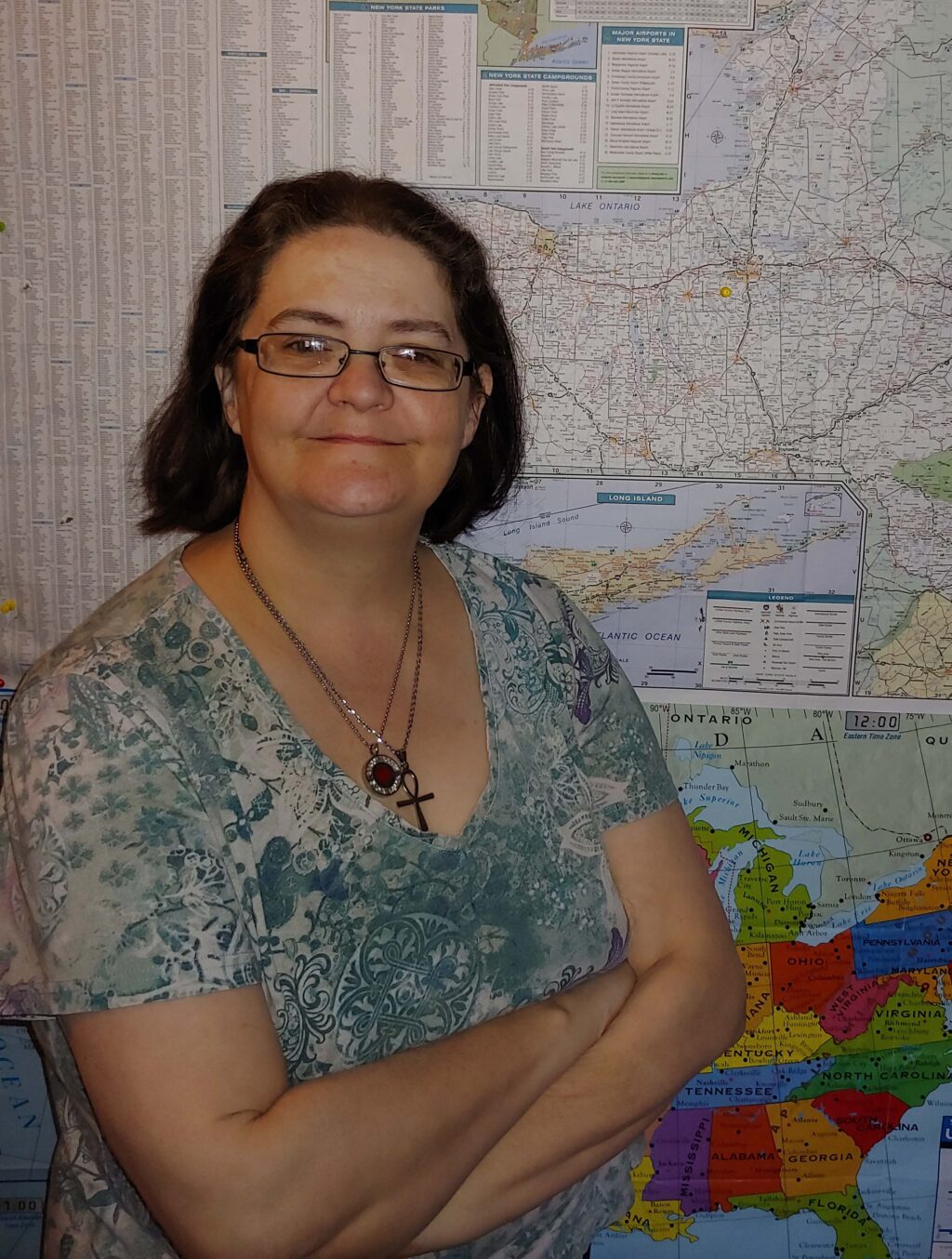 I am pleased to interview writer, blogger and book reviewer Amy Shannon. She is a prolific author who is dedicated to providing book reviews for indie authors on her website, Amy's Bookshelf Reviews. On her second website, Amy Shannon: The window to my soul, starts with a blank page, she promotes her own work as well as provides promotion services for other authors, When I sent her my new novel, The Book of Revelations https://www.amazon.com/dp/B088F1P1SY, Amy promptly read it and posted her review. She also included my book review among a group of her other reviews in a special section of the e-magazine, Uncaged Reviews (www.uncagedbooks.com). As you will read in this interview, Amy's work in the writing world is extensive and has recently expanded to podcasts.
1.) Q. Amy, please tell me about yourself and your writing career.
     A. I have been writing since I was a young girl but telling stories long before that. My mother used to call me her little storyteller because I was always making up stories or giving my own version of stories I have read. For a long time (and still do sometimes) I wrote poetry and short stories. In 2004, I started writing what I thought was a short story but ended up being a full-length novel. I published my first book Unwritten Lifein 2005 (since then it's had several printings and updates). After that, stories were so much easier to write and they came to me so easily, but I kept going back to the characters in my first book, Unwritten Life. To date there are 67 volumes plus nine bonus books (it's called the MOD Life Epic Saga).
2.) Q. Tell me about your blog.
A. I have two blogs. The first one I call my author blog, which is where I promote my own work and I also offer services to promote other authors' works, especially indie authors. My second blog is Amy's Bookshelf Reviews and that was started in 2014. To date, I have served over 1200 authors (and read and reviewed over 1800 books since then).
3.) Q. What made you decide to become a book reviewer as well?
A. At the beginning of the year 2014, I met an author online through LinkedIn. We were thinking about doing some book reviews together. At first, we were going to read each other's work and write honest and unbiased reviews. Renee wrote children's books that focused on children having cancer. I read all of hers but she was only able to read a few of mine. Her books were something very close to her heart. She herself had cancer and lost her battle that September. We were going to open our own blog together doing reviews but then she was gone, so I continued to do what we were going to do. The original blog was very raw and eventually, I found a new home with a better blog, which is what I have today.
4.) Q. Which writers are your role models and why?
A. I am a big fan of classic work such as Walt Whitman's poetry and stories, as well as William Shakespeare's tragedies, but I really love his sonnets the best. I still read Edgar Allan Poe's work, but I also read current authors such as James Patterson and Stephen King. I also think of all the authors that I read as role models and their writing as learning experiences because I can see a variety of writing styles. It's not only shows me what I could challenge myself to write like but also a way that I would not want to write.
5.) Q. What genres are your favorites? Do you turn down certain kinds of books?
A. If I had to say I had a preference for specific genres, I would say crime genres and crime procedurals, as I like James Patterson's Alex Cross series and his Women's Murder Club series. I've also started reading Kathy Reich's books and her Temperance Brennan series. I also like to read biographies about presidents and first ladies, interesting persons, whether it be someone famous or just an ordinary person's memoir.
The only books that I've ever turned away were books that were not in a published-ready state. Some authors in the past have sent me their rough drafts to read and I had to turn them away, but I've given them the option to resubmit for a review after the book has been edited thoroughly. I read genres of all kinds from any author. I've read everything from erotica to self-help to religion and politics, plus all types of fiction and all types of nonfiction. I've even reviewed books that I personally didn't agree with the content, so I wrote the review based on the writer's ability to write. I can pretty much deal with any subject matter, so it's more about how it's written than what is written.
6.) Q. Being a writer, a blogger, and a book reviewer, have you noticed any latest trends in the publishing industry?
A. I know that trends come and go, but I think one of the biggest trends is being an indie author. In some cases, there is still a stigma to being an indie author. I hope with my reviews that I can show that most indie authors deserve to be read because their stories are great. Sometimes I find a gem that I wouldn't have normally sought out. I think the digital version of books is a trend that won't go away and will get better with the different types of technology, but I think that paperback or print books will always have a place on someone's shelf. I do see an increase in audiobooks and if I have read a paperback or a digital version and they want me to also review their audiobook, I will get the audiobook and listen to it, so I can also review on the narration and tone of the story.
7.) Q. You have accomplished quite a bit, including providing a valuable service for authors. What are your career goals for the next few years?
A. I try to do what I can for any author. Sometimes I have to charge small fees for editing, proofreading, or other promotional services. I do take part in blog tours on my author blogs. Unfortunately, this past year I have been diagnosed with a tremor disorder which affects my ability to hand write and type. Actually, I'm filling out this interview using voice recognition and dictation. I hope in some way to be able to still tell my stories and I'm getting used to dictation software. Though I have thought about disbanding my book review blog, I don't see it ending anytime soon. I would love to write again, even if it is short stories or poetry because writing is my passion and telling stories is in my soul.
I also co-host a podcast with author McKensie Stewart and it's called The After Show. It runs on most Fridays except holidays and breaks between seasons. We are always looking for more guests and ways to increase our audience because it's an outlet to help authors, especially indie authors, tell their story.
8.) Q. How has the pandemic affected your business? I know the publishing industry has been hard hit. As someone who published a book this year, I am finding it difficult to promote. I must add that unlike you, many reviewers are not reviewing books now.
A. I don't think the pandemic has affected my business. However, I'm not getting as many requests for doing promotions, but I'm getting requests for reviews from authors who have written more than one book during the pandemic.
9.) Q. Before the pandemic, were you attending writing groups on a regular basis? Do you attend writer conventions? How do you network with other authors?
A. Actually, I don't really attend writing groups or conventions. I've network with other authors and make connections through email and social media. Usually we meet because I've read their books. I also connect with editors, publicists, publishing companies, and other author representatives. Usually once they send me one author, they send me more authors.
10.) Q. How many books have you written? Tell me about your books and what inspired your writing.
A. In total and under three pen names I have written 114 books. Last year I retired two of the pen names and this year released as their final release a collection of all my books for one purchase. Under my name, Amy Shannon, I have written over 96 books and that is including poetry and my large epic saga. I have probably written my last full-length novel, but I have enough books written that I can continue to just publish those books until the year 2034 or more, depending on my releases. I have actually scheduled all my releases up to that year.
As for inspiration, everything inspires me: my surroundings, other authors, and my observations of people.
 11.) Q. Is there anything else you would like to share?
A. I am a big supporter of the indie author community. And basically, my goal for my life is to be an inspiration for someone else. I am a lifelong learner and I like to share what I've learned with others.
I would like to thank Amy for participating in this interview. I must also add that she works quickly. How do I know this? I gave her my interview questions in the late afternoon one day, thinking I would hear back from her in at least a few days, but she sent me back all her answers early the next morning!
To learn more about Amy, including her contact information, the following are her links:
Author Blog: http://writeramyshannon.wixsite.com/amyshannonblog
Website: https://writeramyshannon.wixsite.com/stories
Amy's Bookshelf Reviews: http://writeramyshannon.wixsite.com/bookshelfreviews
Facebook: https://www.facebook.com/amyshannonnovelist/ and https://www.facebook.com/bookshelfreviews/
Twitter: @amyshan_author
Idelle Kursman is the author of True Mercy and The Book of Revelations. She is a freelance writer, copyeditor, and proofreader.