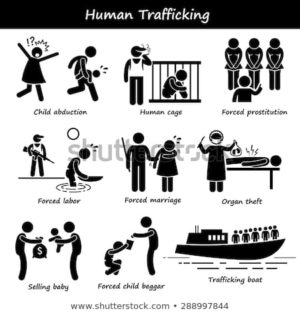 Different Forms of Human Trafficking
Audiences saw shocking newspaper headlines run across the screen and heard harrowing testimonies during the award-winning documentary Breaking the Chain. Filmmakers Laura E. Swanson and Kirk Mason produced and directed this account of two survivors of human trafficking in Michigan.
One was a young man named Kwami who was one of four children kidnapped from his native Togo by a relative. His kidnapper, Jean-Claude Kodjo Toviave, brought him and the other children to the United States. Kodjo worked as a janitor at the University of Michigan and claimed the four children were his own. He beat them with brooms and threatened them if they did not complete their chores. This continued for five years until Kodjo was finally arrested.  Kwani recounted those years in the documentary.
The other survivor was Debbie, who spoke about her years as a trafficking victim when she was 13 to 18 years old in the Detroit area. Debbie described how she was lured in and what she and other girls had to do to survive during that terrifying time.
The documentary showed Kwami and Debbie today and what they are doing to rebuild their lives. Law enforcement, attorneys, and other experts described the situations they encounter while they hunt down kidnappers and counsel victims.
Filmmakers Swanson and Mason noted that Michigan is ranked number 2 of the human trafficking trade in the United States. The state's waterways and location near the Canadian border facilitate transporting of people for this heinous crime.
They are making their documentary available for viewing in different parts of the country to educate and raise awareness of human trafficking. Although these crimes remain hidden in the shadows, they occur every day, transcending socioeconomic status, ethnicity, and race.
After the film, James M. Gannon, Sheriff of Morris County, and Susan Panzica, Executive Director of the Justice Network, spoke about what citizens can do to stop the proliferation of human trafficking, which includes labor and sex trafficking:
In the food industry, many coffee and chocolate companies use slaves to grow their products. Consumers can help end this practice by looking for the fair trade labels on products before purchasing them.
Recognize red flags, such as a young girl receiving gifts from an older boyfriend, displaying behavior changes, or experiencing alienation from family and friends.
Breaking the Chain may have a showing in your area. Check local listings. I can guarantee it is an eye-opener and worth your time. Keep in mind, human trafficking is happening everywhere.
If you see something suspicious, call the National Human Trafficking Hotline at 888-3737-888
For more information, log onto www.njhumantrafficking.org
Idelle Kursman is the author of True Mercy, a thriller that intends to bring awareness to the human trafficking crisis. It is available in print on Amazon and IngramSpark and in digital on Amazon, Smashwords, Barnes & Noble, and Kobo.