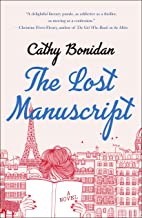 Note: I just came home from my first trip to Georgia! It was a wonderful vacation seeing family, friends, and new sights. I also was able to place my two books, True Mercy and The Book of Revelations, into the Tall Tales Bookshop on 2105 Lavista Road in the Toco Hills Shopping Center. I will be working on putting my books into other bookstores as well.
Title: The Lost Manuscript
Author: Cathy Bonidan
ISBN: 978-1250256300
Publisher: St. Martin's Press
Pages: 299
Published on January 12, 2021
When I first began reading Cathy Bonidan's The Lost Manuscript, I dismissed it as the author trying to ride on the coattails of the feel good bestseller The Authenticity Project. But I continued reading and I am glad I did.
Long ago a young man tried his hand at writing. He finished half the manuscript and while trying to send it off to his friend to review, it got lost. He never wrote again, but thirty years later, when a woman checks into the Beau Rivage Hotel on the Brittany coast, she finds his manuscript in a drawer. She reads it and becomes intrigued: Who wrote it? Why is the second half written differently than the first? Who wrote lines of poetry at the end?
Anne-Lise, does not only wonder. She becomes determined to find out the origins of what she deems an amazing, life-changing story. And Anne-Lise is no ordinary reader: she works at her family's publishing house. Putting on her detective hat, she finds an address in the middle of the manuscript and mails it, inquiring about its origins. The author, a man now in his fifties, responds that he is amazed she has discovered his long-lost work that he had given up ever retrieving years ago. He does not know who wrote the second half or the poetry, so Anne-Lise investigates further by writing to the hotel owner and others to finally get to the bottom of this mystery. She enlists the help of her friend Maggy, a woman who has closed herself off to life and love, as well as a host of strangers who had a role, either directly or indirectly, in the making of the novel. Through her search, Anne-Lise not only solves the mystery but also ends up aiding those involved find love, happiness, and resolutions to their personal difficulties.
I know—it is a little far-fetched. But what I appreciated the most is reading a story where miraculous, life-changing events and happiness are still possible for those over fifty. Getting older does not mean it is too late for new beginnings.
And let's face it—with all the stress of everyday living and the troubling news in the media, couldn't we all use a feel good story?
And now I am on a mission: French author Cathy Bonidan's debut novel, The Perfume of the Hellebore Rose, won eleven awards in France. I am now anxiously searching for an English translation.
Idelle Kursman is a writer, proofreader, and copy editor. She is available for writing projects. Contact her on this website today.