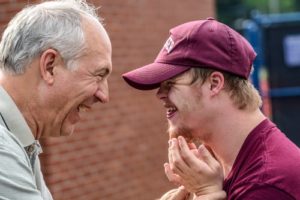 Photo by Nathan Anderson
The Autism Population is increasing and the children are becoming adults. They need work and programs.
In my novel True Mercy, one of the main characters is Adam Hitchens, a young man with autism who does simple, repetitive clerical tasks at a local business. He has a place to go every day and is proud to hold a job. I recently read the article "500,000 Teens with ASD are Headed to Adulthood. Where will They Work?" By Suzanne Garofalo. It appeared in the Houston Chronicle and was reprinted in the disabilityscoop (https://www.disabilityscoop.com/2018/11/16/500000-teens-asd-work/25736/. The article contains many examples of young adults on the autism spectrum who have been able to find satisfying employment and now feel productive and have a sense of purpose. Many employers are realizing it is well worth their while to train and keep these employees, finding many of them to be dedicated and hardworking. Garofalo writes that "Research shows job activities that encourage independence to reduce symptoms and increase daily living skills." Some businesses even qualify for a tax write-off for participating in programs to employ these individuals. While this is certainly encouraging and a reason to celebrate, Garofalo also points out that "nearly half of 25-year-olds with the disorder have never held a paying job, according to Autism Speaks." All people by nature need a schedule, a program with activities, or work in order to thrive. Parents are finding that as their special needs children get older, it becomes harder to find programs and resources. Many programs have waiting lists.
It is my hope that more opportunities for this population increase throughout the country. With the rate of autism now 1 in every 59 births in the United States, "It is a population that's exploding but finds few opportunities."