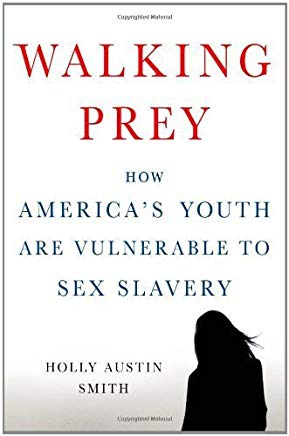 After reading so many headlines about child sex trafficking, I decided to read and review Holly Austin Smith's Walking Prey (2014). The author is an unusually brave sex trafficking survivor who travels across the country relating her experience when she was only 14 years old. Smith cites many statistics, provides reasons for the prevalence of child sex trafficking and gives practical advice on prevention and the rehabilitation of victims.
Smith recounts being an awkward teenager who felt disconnected from her family and alienated from her peers when she ran away with a man named Greg who turned out to be a pimp. She candidly recalls her weeks on the streets of Atlantic City, her rescue, and rehabilitation treatment. The following is a few reasons young girls may be vulnerable to manipulative older men seeking to lure them into prostitution:
According to a 2012 Ohio Human Trafficking Commission report, young people involved in sex trafficking in that state experienced neglect (41%), abuse (44%), sex abuse (40%), emotional abuse (37%), and physical abuse (37%).
In 2011, an FBI report stated that many gangs use prostitution, including child prostitution, as "a major source of income" by "luring or forcing at-risk, young females into prostitution and controlling them through violence and psychological abuse." The report estimated that there are 1.4 million gangs in the United States.
There are many cases of girls and young women promised well-paying jobs and then smuggled across the Mexico-U.S. border to be trafficked for commercial sex. Smith believes that American teens may also be lured into going to Mexico for this purpose.
In our consumer-driven society, children are constantly viewing advertisements sending the message that in order to be popular and accepted, they must obtain certain products. Many cannot afford all these products and those that do purchase them inevitably find they do no fulfill expectations. Compared to the images in the ads, children come up short. They then seek other avenues where they feel desirable and accepted. Pimps are on the look-out for girls who appear lonely and vulnerable and entice them with a lot of attention.
Smith is emphatic that these teenagers should be treated as victims rather than criminals. Pimps lure the ones who suffer from difficult family lives, low self-esteem, and little or no support. And once these children are rescued, they require a great deal of help so they can enter back into society and live productive and stable lives. The author cites many cases, including her own experience, where survivors are treated like criminals. Some survivors actually end up becoming advocates and help put systems in place to facilitate the rehabilitation process for young survivors.
Surely, society must do better to prevent occurrences of sex trafficking in the first place by providing more support and resources for troubled youth.
Smith concludes that "Too many children and teens across the country, as well as their parents, have never heard about child sex trafficking in the United States, and this must change…Community members in general must be made aware of human trafficking and commercial sexual exploitation of children" (pp. 167-168).
I highly recommend Walking Prey to everyone, particularly parents of teenagers. It is an eye-opening experience that they cannot afford to ignore.